September 7th Parade in Brasília Proceeds Without Incidents, Indicates Return of National Stability
The theme of the civic-military parade at the Esplanada dos Ministérios was "Democracy, Sovereignty, and Union" edit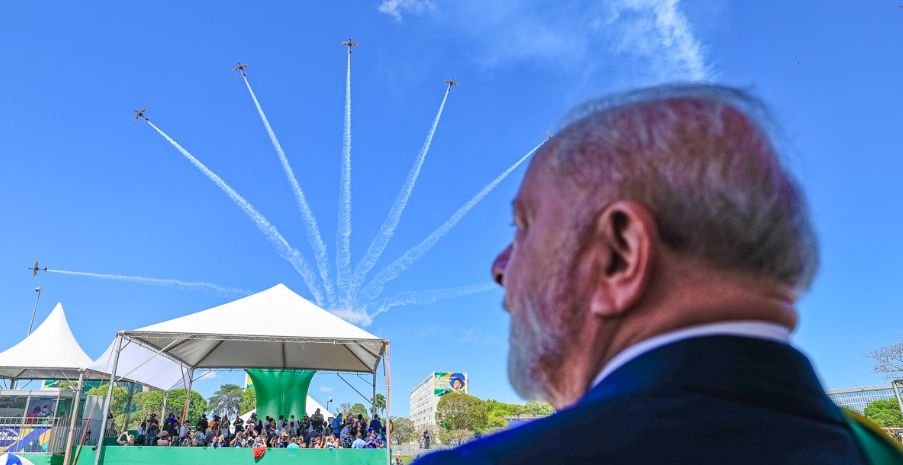 247 - This year's September 7th parade in Brasília was a hallmark of tranquility and order, in contrast to recent periods of instability. The event was attended by various authorities, including President Luiz Inácio Lula da Silva, who was greeted by indigenous military personnel in their own languages, a symbolic gesture of national unity and inclusion. The First Lady, known as Janja, also participated in the festivities, opting for a red outfit that, while not having a significant impact on the event, was a detail noted by those present.
The theme of the civic-military parade on the Esplanada dos Ministérios was "Democracy, Sovereignty, and Union," in an attempt by the government to distance current events from previous celebrations, which were associated with Jair Bolsonaro and antidemocratic demands. President Lula watched the parade alongside key figures from Brazilian institutions, including Rodrigo Pacheco, President of Congress, and Rosa Weber, President of the Supreme Federal Court.
A photo of Lula alongside the heads of the Armed Forces was an unmistakable sign of institutional cohesion. The head of state posed for a picture with the commanders of the Armed Forces: General Tomás Paiva (Army), Admiral Marcos Olsen (Navy), and Brigadier Marcelo Damasceno (Air Force).
The parade proceeded without hitches, corroborating statements by the Minister of Justice and Public Security, Flávio Dino, who had assured a "tranquil" and "harmonious" environment for the event. Dino emphasized that additional security measures had been implemented. At the request of the Federal District Government, agents from the National Public Security Force intensified surveillance and provided support during the September 7th festivities.
In addition to the traditional military parades and aerial demonstrations, such as the eagerly awaited performance by the Smoke Squadron, the parade featured some surprises. One of the moments that most caught the public's attention was when Zé Gotinha, the mascot of the country's vaccination campaigns, made his appearance. The character's presence serves as a reminder of the importance of vaccination during the pandemic.
Assine o 247, apoie por Pix, inscreva-se na TV 247, no canal Cortes 247 e assista:
O conhecimento liberta. Quero ser membro. Siga-nos no Telegram.
A você que chegou até aqui, agradecemos muito por valorizar nosso conteúdo. Ao contrário da mídia corporativa, o Brasil 247 e a TV 247 se financiam por meio da sua própria comunidade de leitores e telespectadores. Você pode apoiar a TV 247 e o site Brasil 247 de diversas formas. Veja como em brasil247.com/apoio
Apoie o 247